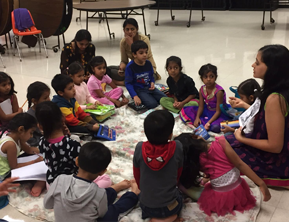 Fundamentals of our Pathshala
Jain Society of Northern Virginia (JSNoVa) is a religious educational and social organization. JSNoVa was established in May, 2017 to broadly promote profound philosophies and principles of Jainism in North America. The fundamental doctrines of Jainism are Ahimsa (Non-Violence), Aparigraha (Non-Possessiveness) and Anekāntavāda (Non-Absolutism).
We also conduct Jain Pathshala for school age children. The Jain Pathshala's curriculum is geared towards widespread application of these three fundamental doctrines of Jainism (Ahimsa, Aparigraha and Anekāntavāda) in our day-to-day life.
We welcome people interested in Jain philosophies and passionate about Jain-Way-of-Life. We look forward to celebrate auspicious Jain events, Jain festivals and conduct series of seminars by prominent Jain scholars.